Windows 98 & ME
Step 1 – First, DELETE the icon from your DESKTOP that reads "Winpoet"
Note: For Internet Explorer users
Open Internet Explorer Browser
Click on Tools, Internet Options
Click on the Connections Tab at the top
Make sure Never dial a connection is checked
Click OK
Step 2 -- Make sure your computer's NETWORK SETTINGS are correct
CLICK on START > SETTINGS > CONTROL PANEL > and then DOUBLE CLICK on the Network Icon. HIGHLIGHT the TCP/IP that is next to your ETHERNET CARD: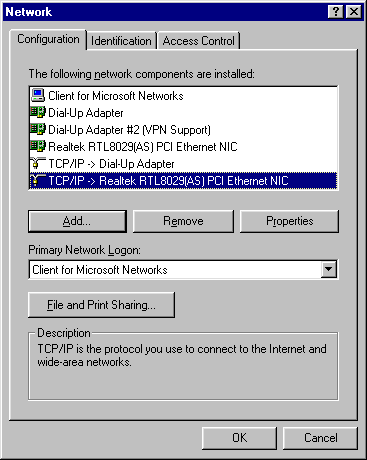 If you DO NOT see a component called "TCP/IP -> YOUR ETHERNET CARD", do the following to install it:
**SPECIAL NOTE – Make sure you have your WINDOWS operating system disk available before doing this step
CLICK Add
CLICK on PROTOCOL and then CLICK Add
In the LEFT window, CLICK on Microsoft THEN in the RIGHT window, scroll down and CLICK on TCP/IP and CLICK OK
If you DO see the component "TCP/IP -> YOUR ETHERNET CARD", CLICK OK
Step 3
Make sure you have an IP Address
Click on START > RUN and type winipcfg. The following screen will appear: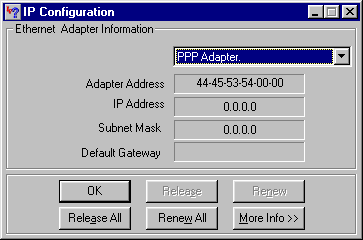 CLICK the down arrow next to the words PPP ADAPTER. Here you should see your ethernet card that is connected to cable modem. CLICK on your ethernet adapter: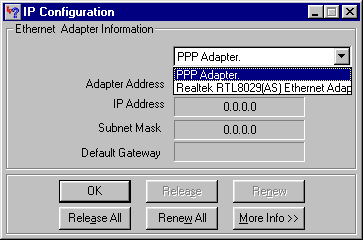 READ under this window: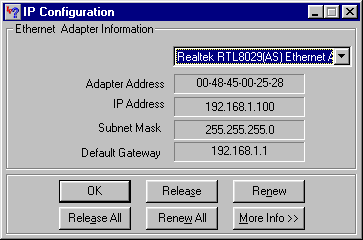 CLICK the button that reads Release All. Your IP address and Subnet Mask should read like the following: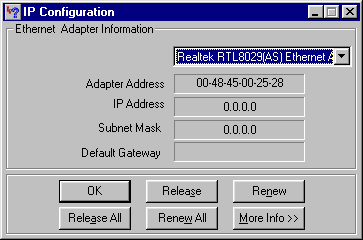 CLICK the button that reads Renew All. Your IP Address will not be the same as the one below, but this shows that the information changed after you clicked the Renew button.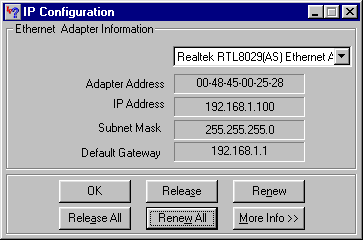 CLICK the OK button and have some fun on the Internet!!!
Please Call 1-888-394-4772 anytime of the day if you are having any issues or questions.